If you're reading this, I know that you're passionate about your sound quality! Because we all want to create the highest quality music possible, we're always looking for ways to improve our home recordings. There are plenty of areas where our sound can be improved but one universal area that is plagued with a seemingly never-ending search is the microphone. With so many brands and types of microphones, it can be downright frustrating trying to find the right microphone for our voice. Especially at an affordable price. 
After buying and selling a small army of microphones over the last 10+ years, there's one expensive truth that I've learned. As long as you record in a noise-free acoustically treated space and use a quality microphone that captures a balanced representation of sound, you can achieve a great sounding vocal mix! Of course higher quality mics will net a greater end result with less effort mix-wise, but in general getting a clean balanced recording at the source enables your mixing engineer to give you quality results.
With a sea of microphones that range from sounding muffled to having piercingly high amounts of treble, here are my personal recommendations for balanced microphones under $1000. If you have any favorites that weren't mentioned, feel free to leave them in the comments! 
Almost No Budget Options
If you're just starting out, I know you don't have alot to spend on equipment but you still want a decent sound at home. You won't find a ton of excellent sounding microphones at this level, but here are two nice quality options for around $100!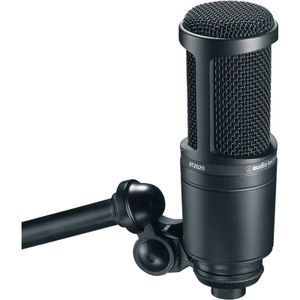 The AT2020 is a solid choice for artists looking for a microphone around $100. It's a little on the bright side eq-wise (as most mics are at this price level), but it isn't overbearingly bright and cheap sounding like alot of others at this price point. It has a pretty decently balanced sound and will get you going without breaking the bank. Give it a go!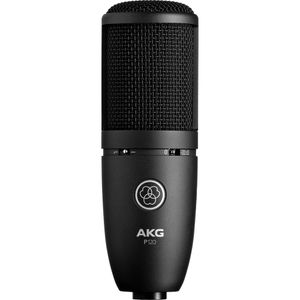 In the almost no budget category, this would be my personal pick! I have a friend that I used to mix for all the time that recorded on the older version of this mic and his vocals always came out with great quality. Out of curiosity, I picked up the older version of this microphone for dirt cheap locally (at a store ironically called Dirt Cheep Music lol) and it performed surprisingly well! Like I mentioned earlier, mics at this level are usually pretty bright but the brightness on this one sounds decent! It sounds even better to me if you open it up and take out the foam they have attached inside, but I wouldn't recommend doing that unless you're a somewhat handy person. I loaned it to a friend of my mine and he never gave it back. That says something surely lol! Either buying it new at $99 or finding the older version (AKG Perception 120) used for a good price, you can't go wrong! If I only had a few coins to buy a mic, this would be my choice. 
Low Budget Options 
If you're on a low budget, you may have already been through a few cheap microphones and you know how horrible they can sound. But don't worry! You can definitely still get quality on a budget! To skip a lot of the bad apples, I suggest you start at the $250+ range.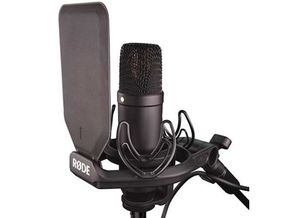 This microphone has a very natural and clear tone. In addition, it is one of the quietest microphones made today! Having such a low noise floor is a helpful advantage when trying to achieve clean recordings. The more popular version, called the NT1-A, has been around for many years and is also a great microphone. The main difference (besides the color of the microphone) is it's high frequency response is more aggressive than the NT1 kit. But since our goal is achieving a balanced sound I'd recommend the NT1 kit as a better choice.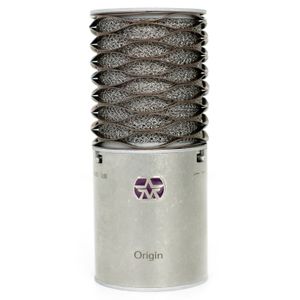 I actually own this microphone and I've had awesome results with it! I mainly use it for background vocals but it's certainly clean enough to get a great lead vocal as well! It's also built like a tank so a drop or two won't destroy the microphone. Sometimes when you buy microphones, the price is inflated due to all the costs that are associated with packaging and other non-essentials that are included with the mic. The awesome thing about Aston is their packaging is very basic and 100% recyclable. This saves YOU money as a consumer. When you buy an Aston mic, you're paying for a quality microphone not a fancy box. I love that! Aston is a relatively new microphone company but they're shaking up the microphone industry with quality products at amazing prices!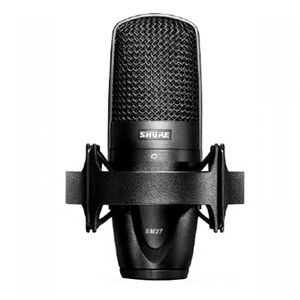 Shure has a very long history of creating quality products so you know you're getting the goods when you buy anything from Shure! This microphone is actually my personal pick within the Low Budget options. I used its predecessor (the Shure KSM27) exclusively from 2007-2013. Here's one of my most popular tracks featuring the KSM27 on vocals. It's one of the most underrated and versatile microphones I've ever used. Throughout my time with it, I've recorded all types of voices and it's done a phenomenal job! The newer SM27 has the same sound quality but a lower self-noise and upgraded electronics. I highly recommend it! 

I've never personally used this microphone, but the results I've heard with it have been awesome! It has a very balanced tone that enables it to be very versatile. The bluebird has been around for years and still has many fans today. I've even heard of people preferring it over the more expensive Blue Baby Bottle because of it's strength in the versatility department. If you're looking to record vocals AND instruments on a budget but can only afford one microphone, this is a great choice! 
Mid Budget Options 
If you have more than $400 to spend, here a few great balanced microphone options!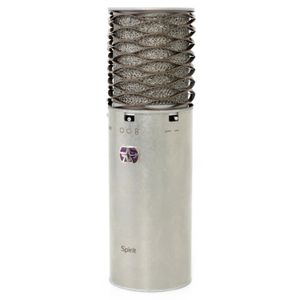 The Aston Spirit is the big brother of the previously mentioned Aston Origin. While the Aston Origin has a clean clear sound, the Aston Spirit is more reserved with a warm vintage character. If you naturally have a bright voice, the Aston Spirit is a great option to smooth over your vocal while still having a nice sheen.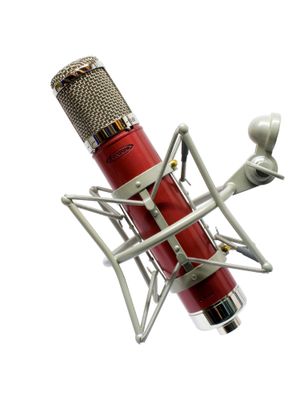 Unlike the other microphones mentioned here, the Avantone CV-12 is a tube microphone. For the most part, tube microphones tend to have a warm sound signature with a sweet top end. The examples I've heard of this microphone have been balanced but with a little extra sheen on top. It seems just a tad scooped in the midrange so if your voice is naturally peaky in the midrange, this may be a great microphone to smooth things over!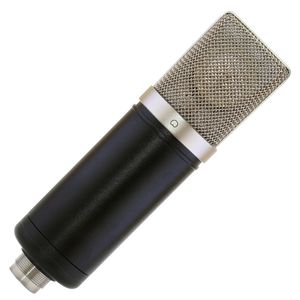 If you've wanted to get your hands on a Neumann U87 but don't quite have the budget, this microphone may do the trick! It's modeled to closely replicate the sound of the Neumann U87 and from the examples I've heard, it comes remarkably close! One of the strengths of the U87 is how great it sounds within the context of a mix. The U87 takes processing extremely well and you can pretty much mold it into whatever sound you desire. My friend uses an S-87 and it seems to have very similar mix traits as the U87. Being SO MUCH lower in cost than the U87 (which is currently thousands brand new), you really can't go wrong with this microphone! If you have soldering and electrical experience, you can get this microphone over $200 cheaper by buying the kit version and putting it together yourself! Check it out! 
Top Budget Options 
If you have close to $1000 to spend on a microphone, these are in my opinion some of the best options! I've personally used all of these microphones and can attest to their quality.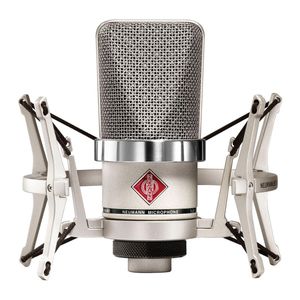 This microphone is shockingly small but it packs a punch sonically! It's the little brother to the more popular TLM 103, but I actually prefer the sound of the TLM 102! It has a very balanced frequency response that reminds me of the U87. If your heart is set on Neumann, this is a great way to get that classic Neumann sound at a fraction of the price!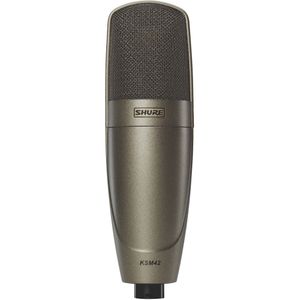 If you're looking for a warm, smooth, and balanced tone, this microphone fits the bill! It's one of the best microphones I've ever owned. I really miss it! It added a special something to my RnB vocals that I haven't really found with other mics. I used it on this hook beat. I sold my KSM42 and several other mics in order to buy the U87, but I still miss this one!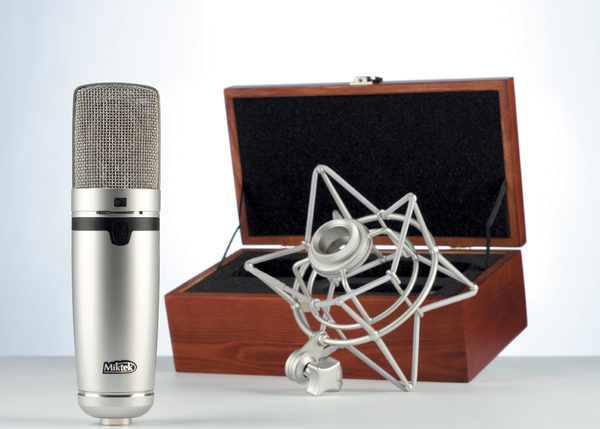 Several years back I caught this microphone used at a great price and I jumped on it ASAP! I'd been hearing a lot of great things about it in comparison to the U87 so I thought I'd give it a shot. My experience was stellar! It reminded me of the U87 in some ways. Whenever I wanted something U87-ish but a little brighter, I used this microphone. Another great thing about this microphone is it has an internal switch that toggles between different voltages. The lower voltage will give you a more vintage tone while the higher voltage gives you a brighter and more modern tone. In a sense, you're getting two mics for the price of one! Either at full price or on sale, this is a great option! 
High End Options 
If you have over $1k to spend and you want the best bang for your buck all around, here's my personal recommendations!
Manley Reference Cardioid ($3499)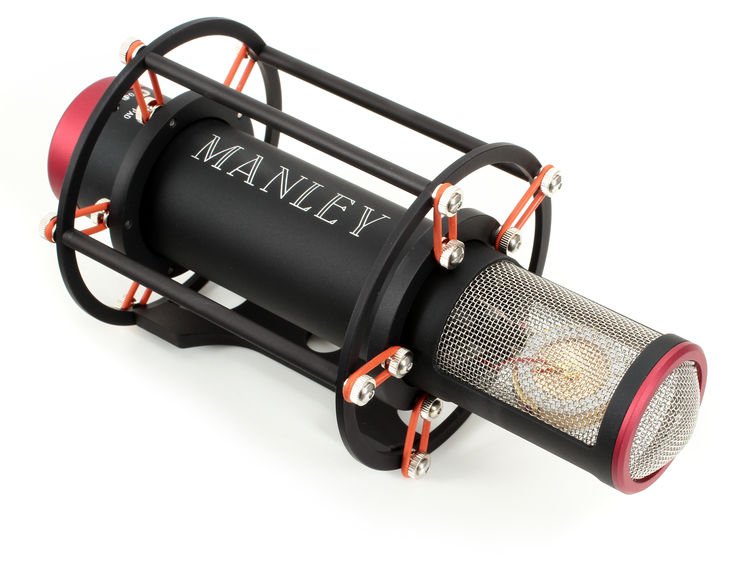 The clarity on this microphone is amazing! It has a very professional sound out the gate, is extremely versatile across many voices, and super easy to work with in the mix! Of all the microphones I've had, this is the easiest one to work with. I get the sound I'm looking for at the recording stage so that way when I'm mixing, I don't have to do much to the vocal! I've recorded instruments, solo vocals, created choirs, and all types of recordings with this mic. Highly recommended! I actually ended up selling my U87 and only use this mic now because it's that good!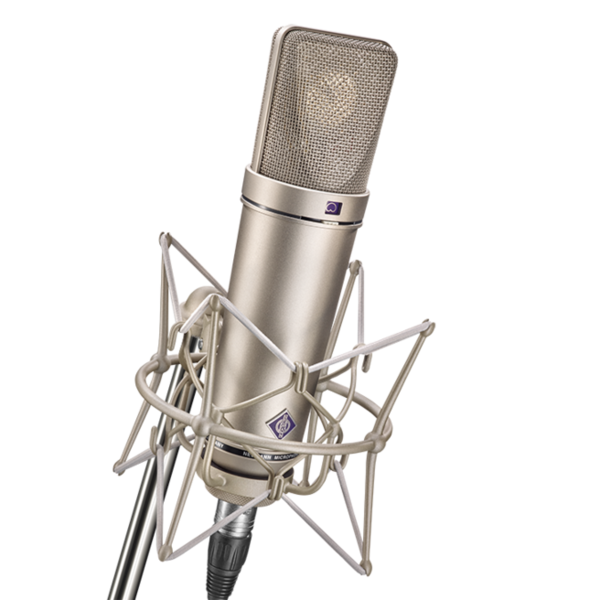 Even though I've sold mine, I can't leave the U87 out of the high end options list! I recorded so much music with this mic! A few of those recordings led to 2 Grammy nominations and also a grammy win! The U87 is used as a reference point for quality microphones all the time and often regarded as a holy grail mic. But the first time most people record on a U87, they won't understand the hype. I was one of those people as well! The beauty of the U87 isn't the initial sound that you get at the recording stage. It's in how malleable this microphone is in the mixing stage. You can literally get any sound you want out of this mic! It takes processing amazingly well while still retaining professional quality. It also works on lots and lots of voices plus instruments. Versatility is the reason for the hype! If you're only going to be recording your vocals and no instruments, the U87 probably won't be the best choice. But if you're going to be recording a variety of different voices and sources, this is an amazing choice! 
Disclaimer 
I hope you've enjoyed my personal picks for microphones under $1000 (and a few high options)! Of course every voice is different so these microphones may not work for you. I suggest trying them out before purchasing if you can. If you're unable to try them out, make sure the company you're purchasing from has a return policy enabling you to return your purchase if the mic doesn't work out for you. Also some of you may have the budget for a much higher microphone. You can certainly go for the gusto and go well beyond $1000 when it comes to microphones (as I've done). But understand once you get into a certain league of microphones, the rest of your recording chain has to be up to par in order to achieve the full intended potential of the mic's sound. That means your room needs to be acoustically treated, your microphone preamp should be top notch, any other complimentary gear in your signal chain should be top notch (such as compressors, etc), and the audio converters in your interface should be top notch. To start, I'd definitely recommend staying under $1000 for your first microphone and then slowly upgrading every piece of recording your chain as you go. Take your time and enjoy the process! I'll provide more info on other quality choices for your recording chain in future blogs. Hope that helps! Thanks for reading and happy creating! -Tone
P.S. If you need high quality instrumentals to compliment your high quality vocals, browse my catalog of original royalty-free instrumentals! Enjoy!