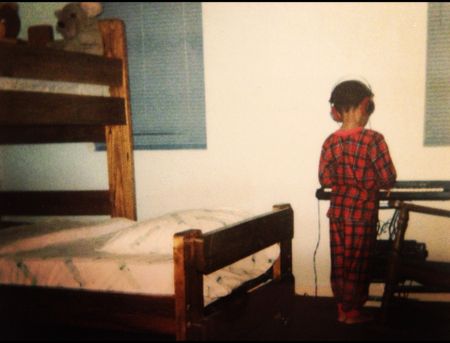 Tone Jonez
Producer/Writer/Engineer/Artist
The Beginning
Starting out his music career at the tender age of 3, Tone Jonez is NOT your average producer selling beats online! It all started under the southern shades of Aiken, South Carolina. Tone Jonez, then simply known as Antonio Jones, was sitting in front of the TV with his toy keyboard making noise as usual. But then something unusual happened. His parents state that Tone began to play the melody from the TV commercial that was on. Tone had never had any piano training or any previous musical inclination. His parents were mesmerized! God had miraculously gave Tone the gift to play music by ear in an instant. A child prodigy was sitting in front of the TV screen! 
After this amazing discovery, Tone's father, a musician himself, began to coach and mold this new found musical gift. Tone would spend hours a day practicing the same melodies and chords over, and over, and over, and over, and over, and.......... you get the picture lol! After some time, Tone began to grow and expand on his own, creating his own melodies. While most kids were outside playing, watching cartoons, or playing video games, Tone was stuck to his keyboard. Sometimes he'd even fall asleep with his hands on the keys! 
As he grew older, Tone began to advance at a rapid rate, replicating everything he heard. Tone spent many Saturdays listening to cassette tapes over and over again learning songs. This practice evolved into Tone buying his own blank cassettes and recording his original music with the family tape deck. Tone's first "Beat" was created with a Yamaha keyboard, his saxophone from band class, and the family tape deck in 1995. This was the start of Tone's infatuation with the concept of recording. He'd walk around with a portable tape recorder recording everything that happened throughout the day so he could go back and listen later. Tone still has the tapes of these recordings till this day!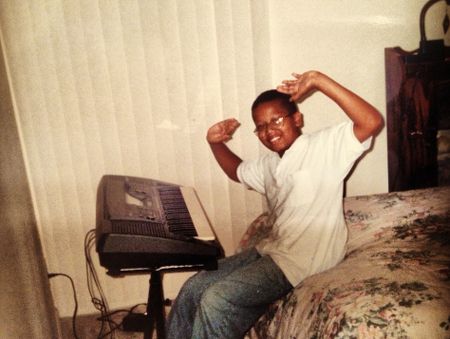 Evolving into Tone Jonez
Around the mid-late 90s, Tone started playing the keyboard beside his Father at their home church. Tone would play strings, lead synths, brass, or other instruments while his Father played the main piano parts. Eventually, Tone began playing drums on the keyboard when the real drummer didn't make it to church. Picking up such a rich musicality from church, Tone began playing for other churches and eventually landed an official church musician position in 2002 where he served for 8 years. Within this span of 8 years, his musical ear grew phenomenally! Tone even started rapping with his friends and got heavier into music production. It was during this time that he was given the nick name Tone Jonez.
Making beats everyday was a common thing for Tone! It grew into a passion so strong that Tone knew he didn't want to do anything else in life! Of course, this type of dream wasn't approved by his elders as something to pursue as a career. He was advised to go the usual route of going to college and getting a job. He was even told to work a factory job until he was old and then retire! Tone chose the college route. While in college, he still felt that music was his ultimate passion and calling. Ironically, he flunked out of college because instead of paying attention in class, he was using the school computers to research information about producing and engineering! Tone was 100% sure what he wanted to do in life but had no clue how to get there. After working several dead end jobs, even being a bill collector, Tone decided to move to Atlanta in 2008. 
A Taste of the Music Industry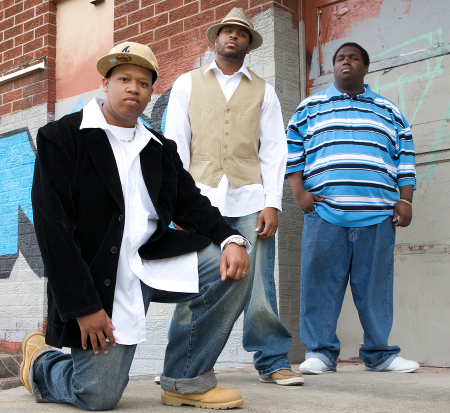 Going from the slow and predictable environment of South Carolina to the lively and exciting vibe of Atlanta was a HUGE culture shock! But, Tone knew without a shadow of doubt that this is where he was supposed to be. He was laser-focused on pursuing music seriously as a business. With a strong desire to make an official entity, Tone, his cousin Lamar, and friend Barry started their own music production company, Strong Foundation & Co., LLC in 2008. 
Hitting up various beat battles and open mics, it wasn't long before they started making some serious noise in ATL! After passing out Beat CD's, one of the CD's ended up in the hands of a rapper who was part of a very prominent rap group in the 90's. The rapper handed the cd off to a record label owner who had amassed his fortune in the 80's as an industry songwriter/musician. When the label owner heard the music, he immediately scheduled a meeting for Tone and his production partners and signed them to a deal! The label was distributed through a major label and the owner had very famous friends, a nice upscale office, and luxury cars to match. Tone and his partners thought they had made it big time! Photo shoots were arranged, bios were written up, and even a manager was assigned to them. But, nothing substantial ever materialized out of the deal. Many meetings were scheduled in which the owner never showed up to. Many false promises were made but never fulfilled. This was very discouraging to Tone and his partners so they abandoned the "music industry dream" and resumed the 9-5 grind.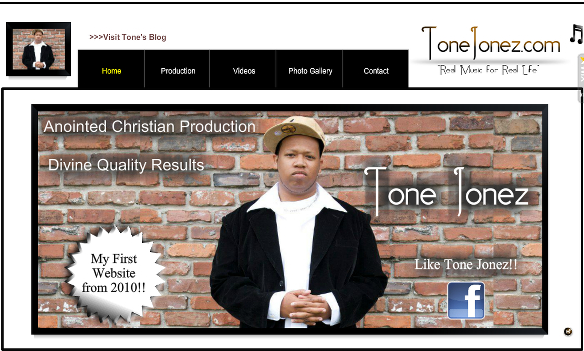 ToneJonez.com is Born 
Even though the sour experience deterred Tone from being in the "traditional" music industry, his passion music was still strong and he'd still make music everyday for fun. He also began to look for happiness in other areas of life. It was then that he began courting his business partner Barry's sister. In 2009, Tone got married to his business partner's sister and brought a beautiful baby girl into the world in 2010! Tone realized that THIS was the key to happiness in his life! There is truly nothing like family. Tone took great pleasure in working hard at several jobs to provide for his family.
In late 2010, Tone was frustrated because he didn't have anywhere to make music anymore. He and his family were living with in-laws so space was super limited. It was at that point that Tone got the idea of trying to sell his beats online. Tone had actually tried to sell beats on Soundclick in 2005 but failed horribly. Still, he tried again! This time it was a success! After putting his music online, people from all over started contacting Tone to
buy beats
, get tracks mixed, or get
custom production services
. The demand was coming at Tone so strong that he couldn't handle all the business he was getting. It was truly a blessing and a curse! Failure to meet deadlines led to unhappy customers and a sharp decrease in business. Working a job and running a business was too hard for Tone to handle. Tone dreamed of letting the job go and doing music full time. Through very unfortunate circumstances, the door of opportunity hit!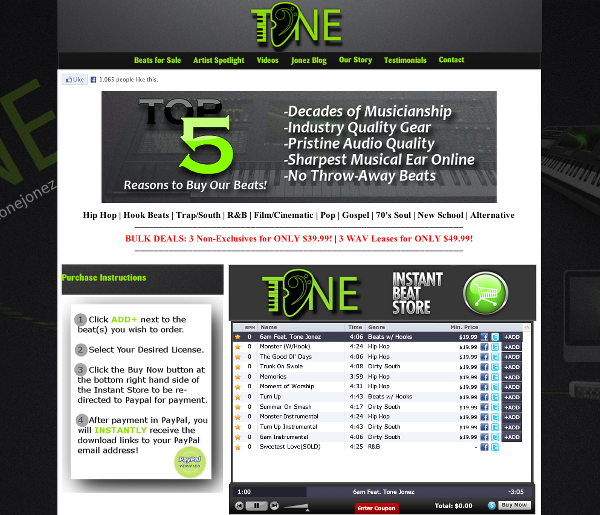 In early 2011, while working as a route courier, tragedy struck as the gas costs began to take a toll on the family's finances. Only making $500 per week and spending $250 on gas for work, Tone was only left with $250 a week to provide for his family. Tone was selling beats here and there, but hardly enough to provide a Full-Time income off of. It was at that moment that Tone decided if he was only going to make $250 a week, he'd rather make it doing what he loved. After talking with his wife, Tone put together a plan that would allow him to quit his job and go Full-Time. In an ironic twist, beat sales began to pick up! Soon Tone was matching his $250 a week pay. Soon after he was doubling it! With all the business coming in, Tone was able to get a rental space to make music, move his family into their own apartment, and get a new vehicle for the family! In May of 2011, Tone Jonez officially became a Full-Time music producer for ToneJonez.com and the site has been growing ever since! 
There were countless trials and tribulations along the way, but ToneJonez.com has now grown into a wildly successful business with customers spanning multiple countries! Tone has built the business into a 6 figure annual revenue enterprise, won multiple awards (including a Grammy Award and 2 Grammy Nominations), worked all the way up to being the top producer of all time on Airbit.com (the platform Tone uses to sell his beats), expanded into multiple business ventures, scored multiple placements, and many other amazing things! Even legendary music producer
Just Blaze gave a very encouraging review of Tone Jonez's production!
Tone supports his family and blesses many other family/friends 100% from his entrepreneurial pursuits. His #1 goal is to keep expanding his business so he can be a blessing to even more people. When all is said and done, impact is Tone's purpose for everything he does. To all artists, producers, and anyone else who may be reading this, let this story serve as a shining message of encouragement that no matter what life throws your way, YOU can accomplish your dreams! Trust God and keep pushing!